Several movies that were due to open in 2020 are now coming out in 2021. Many films' release dates are still changing or up in the air. This list will be updated as more information becomes available, including whether the films will be on streaming, VOD or in theaters. (Last updated: September 10, 2021)
"Flora & Ulysses" (February 19, 2021)
This winning family movie about a girl and her squirrel is now playing on Disney+. Read the review: A Super-powered Squirrel Saves the Day in 'Flora & Ulysses'
---
Tom & Jerry (February 26, 2021)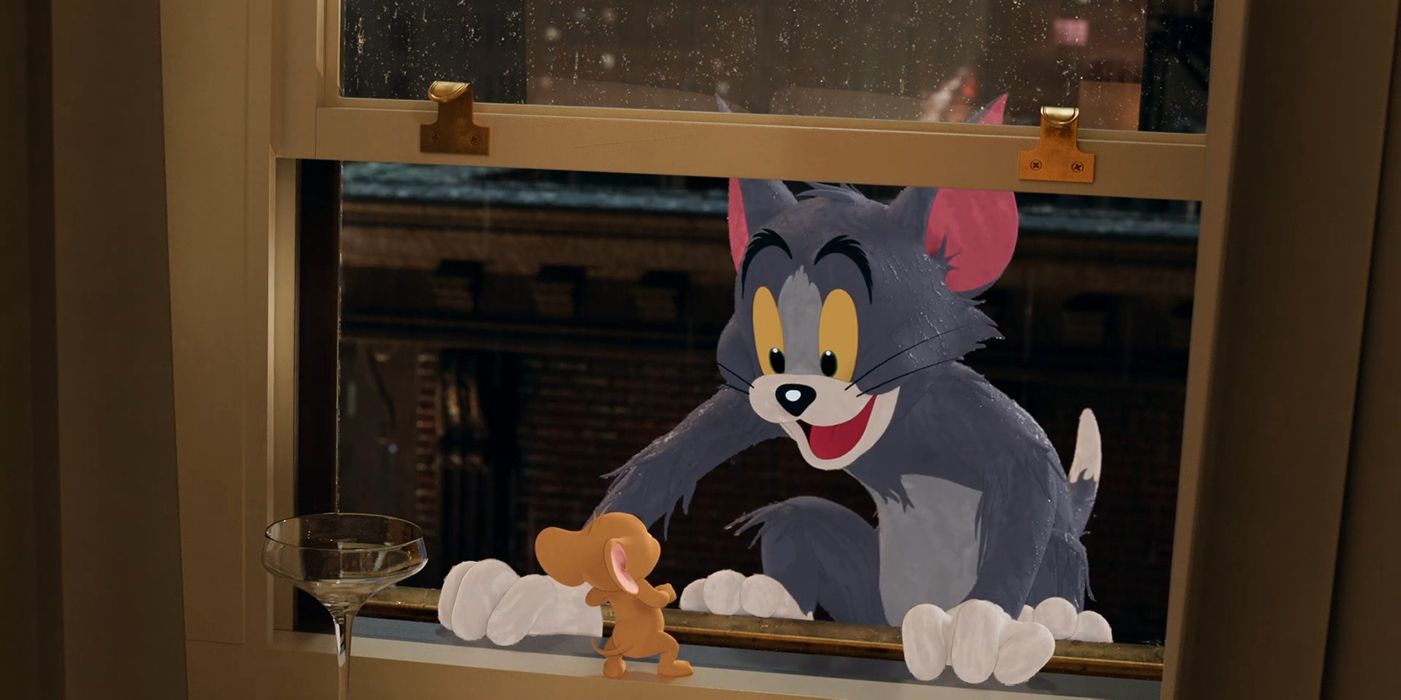 The classic animated duo hits the big screen in a film that will include animation with live-action. The live cast includes Chloë Grace Moretz, Michael Peña, Ken Jeong, and Colin Jost. While the animated characters will be voiced by Frank Welker and (archivally) by William Hanna, Mel Blanc, and June Foray. It's on HBO Max.
---
Raya and the Last Dragon (March 5, 2021)
In this animated Disney film, a young warrior (Cassie Steele) embarks on a quest to find the last dragon (voiced by Awkwafina). It's available for purchase through Disney+ Premier Access for $29.99 from March 5, 2021 to May 4, 2021, and will be made available for free to all subscribers on June 4.
---
Stray (March 5, 2021)
This award-winning documentary follows 3 of the 100,000 homeless dogs in Istanbul. Read: Trailer: Documentary 'Stray' Follows the Homeless Dogs of Istanbul
---
The Truffle Hunters (March 21, 2021)
In the forests of Northern Italy, a dwindling group of old men and their faithful dogs search for the world's most expensive ingredient, the white Alba truffle. Sony Classics will distribute the movie, which premiered to rave reviews at Sundance in 2020. It opened in select theaters. It's not yet available online.
---
Godzilla vs. Kong (March 26, 2021)
The two titans go up against each other in this sequel to "Godzilla, King of the Monsters" and "Kong: Skull Island, which was bumped up two months from May to March 2021 release date. It's in theaters (where possible) and simultaneously on HBO Max.
---
We Don't Deserve Dogs (April 9, 2021)
This documentary travels to 11 different countries to look at all the ways dogs influence our daily lives. It's available to rent on VOD. Get more information at the official site: https://www.wedontdeservedogs.com
---
Secrets of the Whales (April 22)
For Earth Day 2021, this documentary about whales, produced by James Cameron and narrated by Sigourney Weaver, will premiere on Disney+ on April 22.
---
The Mitchells vs. The Machines (April 30, 2021)
This hilarious animated movie pits a family of four — and their pug — against a robot army. Now streaming on Netflix. Read: All About Monchi (Aka Doug the Pug) in 'The Mitchells vs. The Machines'
---
Dream Horse (May 21, 2021)
Toni Collette and Damian Lewis star in this true-life story of a small town that backs a race horse. It opens in theaters on May 21 and debuts on demand on June 11. Read the review: 'Dream Horse' Is A Heartwarming Underdog Story
---
Cruella (May 28, 2021)
Emma Stone stars as a punk version of Cruella in this live-action remake. Read: All About the Dogs in 'Cruella'
---
Peter Rabbit 2: The Runaway (June 11, 2021)
James Corden returns as the voice of Peter Rabbit in this sequel to the 2018 film.
---
Wish Dragon (June 11, 2021)

Din (voiced by Jimmy Wong) is a working-class college student whose big dreams might come true, thanks to Long (John Cho), a cynical but all-powerful dragon. They set off on an adventure through modern day Shanghai in this animated film. It will debut on Netflix.
---
Luca (June 18, 2021)
Two young sea monsters try to pass as human in this sweetly funny Pixar adventure. Now streaming on Disney+. Read All About the Cat (and Other Creatures) in 'Luca'
---
Space Jam, A New Legacy (July 16, 2021)
| | |
| --- | --- |
| | NBA superstar LeBron James teams up with Bugs Bunny, Daffy Duck, Lola Bunny, and the rest of the Looney Tunes in this sequel to the 1996 movie. In theaters and on HBO Max. |
---
Pig (July 16, 2021)
Nicolas Cage stars as a man looking for his stolen pig, a prized truffle hunter, in this indie drama. Read: Read: All About the Pig in the New Nicolas Cage Movie
---
The Green Knight (July 30, 2021)
An epic fantasy adventure based on the timeless Arthurian legend, The Green Knight tells the story of Sir Gawain (Dev Patel), King Arthur's reckless nephew , who embarks on a daring quest to confront the eponymous Green Knight. Although the film is playing in the U.S., it has been pulled from release in the U.K. due to surge of the COVID Delta variant.
---
Jungle Cruise (July 30, 2021)
Director Jaume Collet-Serra ("The Shallows") brings the famed Disney ride to the big screen. Emily Blunt stars as a wealthy adventuress who hires steamboat captain Dwayne Johnson to help her find a legendary treasure. We expect to see big cats, hippos, elephants, piranhas and, of course, the back side of water. It was originally set to be released July 24, 2020.
---
Vivo (August 6, 2021)
The animated film is a about a kinkajou named Vivo, who spends his days playing music to the crowds in a lively Havana square with his owner Andrés. The movie, which will be on Netflix. features songs by Lin-Manuel Miranda.
---
Paw Patrol (August 20, 2021)
When their biggest rival, Humdinger, starts wreaking havoc as the mayor of Adventure City, Ryder and everyone's favorite heroic pups kick into high gear to face the challenge. Armed with exciting new gadgets and gear, the PAW Patrol joins forces with a savvy dachshund to save the citizens of Adventure City. Playing in select theaters and streaming on Paramount+.
---
Firedrake the Silver Dragon (September 10, 2021)
Based on Cornelia Funke's 1997 novel Dragon Rider. When his home is threatened by humans, a young dragon summons the courage to seek a mythical paradise where dragons can live in peace and fly free. This animated film, from Germany's Constantin Studios, is streaming on Netflix. It includes the voice talents of Freddie Highmore, Felicity Jones, Thomas Brodie-Sangster and Patrick Stewart.
---
Lamb (October 8, 2021)
Noomi Rapace stars in this Icelandic film about a couple who decide to raise a a half-lamb, half-human creature as their own child. It's from A24, the same studio that gave us "Hereditary" and "Midsommar."
---
The Electrical Life of Louis Wain (October 22, 2021)
---
Finch (November 5, 2021)
This sci-fi film, starring Tom Hanks as a robotics engineer who creates a robot as a companion for his dog, Goodyear, will debut on Apple TV+.
---
Clifford the Big Red Dog (November 10, 2021)
The live-action family comedy will be simultaneously released theatrically and digitally on Paramount+ on November 10, 2021. Based on Norman Bridwell's book series of same name. It stars Darby Camp, Jack Whitehall, John Cleese, Sienna Guillory, Kenan Thompson, and Rosie Perez.
---
Encanto (November 24, 2021)
This tale of a magical Colombian family – including a boy who can talk to animals – opens in theaters on November 24 and premiere on Disney+ on December 24. Read: 'Encanto' trailer features capybaras, coatis and a tapir
---
Sing 2 (December 22, 2021)
The voice cast of the first film returns for a sequel to the 2016 animated hit, which also adds Idina Menzel and Selena Gomez.
---