Animal-themed movies now playing/streaming/on demand
Luca (June 18, 2021)
Two young sea monsters try to pass as human in this Pixar adventure. Now streaming on Disney+. Read All About the Cat (and Other Creatures) in 'Luca'
---
Peter Rabbit 2: The Runaway (June 11, 2021)
James Corden returns as the voice of Peter Rabbit in this sequel to the 2018 film.
---
Wish Dragon (June 11, 2021)

Din (voiced by Jimmy Wong) is a working-class college student whose big dreams might come true, thanks to Long (John Cho), a cynical but all-powerful dragon. They set off on an adventure through modern day Shanghai in this animated film. It will debut on Netflix.
---
Raya and the Last Dragon (June 4, 2021)
In this animated Disney film, a young warrior (Cassie Steele) embarks on a quest to find the last dragon (voiced by Awkwafina). Now free to all Disney+ subscribers.
---
Cruella (May 28, 2021)
Emma Stone stars as a young, punk version of the classic Disney villain. It's now in theaters and available to rent via Disney+'s Premier Access program. Read: All About the Dogs in 'Cruella'
---
Dream Horse (May 21, 2021)
Toni Collette stars in this drama about a small Welsh town that backs their own race horse. Read the Moviepaws review: Dream Horse' Is A Heartwarming Underdog Story
---
The Mitchells vs. The Machines (April 30, 2021)
This hilarious animated movie pits a family of four — and their pug — against a robot army. Now streaming on Netflix. Read: All About Monchi (Aka Doug the Pug) in 'The Mitchells vs. The Machines'
---
We Don't Deserve Dogs (April 9, 2021)
This documentary travels to 11 different countries to look at all the ways dogs influence our daily lives. It's available to rent on VOD. Get more information at the official site: https://www.wedontdeservedogs.com
---

Godzilla vs. Kong (March 26, 2021)
The two titans go up against each other in this sequel to "Godzilla, King of the Monsters" and "Kong: Skull Island." Now playing in theaters on HBO Max.
---
"Stray" (March 5, 2021)
This award-winning documentary follows three stray dogs in Istanbul. Read: Director of Istanbul Dog Documentary 'Stray' On Her Canine Star's Independence (And Where She Is Now)
---
"Chaos Walking" (March 5)
This YA sci-fi series finally hit elects theaters after several delays. Read the Viewer Advisory to find out what happens to Manchee the dog. No word yet on when it will available to stream or buy online.
---
"Tom & Jerry" (February 26, 2021)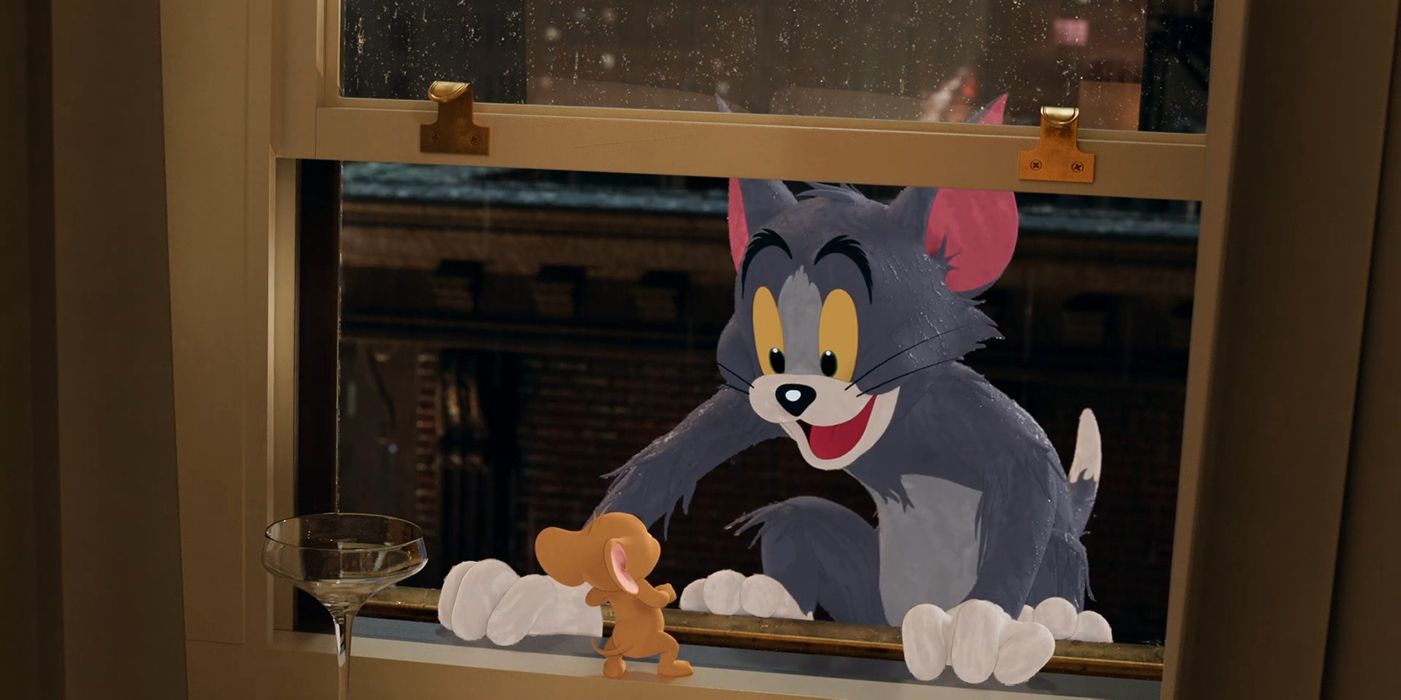 The classic animated duo hits the big screen in a film that will include animation with live-action. The live cast includes Chloë Grace Moretz, Michael Peña, Ken Jeong, and Colin Jost. While the animated characters will be voiced by Frank Welker and (archivally) by William Hanna, Mel Blanc, and June Foray. It's on HBO Max.
---
"Flora & Ulysses" (February 19, 2021)
This winning family movie about a girl and her squirrel is now playing on Disney+. Read the review: A Super-powered Squirrel Saves the Day in 'Flora & Ulysses'
---
"Rams" (February 5, 2021)
Two rival sheep farmers battle to save their flocks from a deadly disease in this remake of the Icelandic film. Now available on Hulu. Read: 'Rams' Review Roundup: 'Sunnier' Than the Icelandic Original
---
"Soul" (December 25)
A jazz pianist (Jamie Foxx) has an out-of-body experience after an accident. Now he's stuck between Earth and the Great Beyond in the Great Before, a world where souls develop personalities, quirks, and traits before being sent to live their earthly lives. Can he get back to his body before he's too late? Now playing on Disney+. Read: All About the Cat in the Pixar Movie 'Soul'. One of the five animated films of 2020 nominated for an Oscar.
---
"Wolfwalkers"
This gorgeous animated film from the director of "Song of the Sea" is now playing in select theaters and on Apple TV. It's also nominated for an Oscar. Read the Moviepaws review.
---
"Marona's Fantastic Tale" (November 10)
In this poetic animated French film, director Anca Damian follows a stray dog named Marona as she looks back on the human companions she has loved throughout her life. Now on DVD. Read the Moviepaws review.
---
"Over the Moon" (October 23)
A young girl is inspired to build her own spacecraft to meet a mythical Moon Goddess, accompanied by her pet bunny. Inspired by the Chinese tale of the goddess Chang'e and her husband, Houyi. Featuring the voices of Sandra Oh, Cathy Ang, Phillipa Soo, Robert G. Chiu, Ken Jeong, John Cho, and Margaret Cho. On Netflix. Also nominated for an Oscar.
---
"Love and Monsters" (October 16)
A young man (Dylan O'Brien) must brave monsters of all kinds to be reunited with his school sweetheart. Available to rent on Amazon, etc. Read: 'Love and Monsters': All About the Dog Who Plays 'Boy'
---
"Seniors: A Dogumentary" (September 29)
This documentary about senior dogs, and the people who cherish and protect them, features the beloved Old Friends Senior Dog Sanctuary of Mount Juliet, Tennessee and Chaser the Border Collie, known as "The Smartest Dog In the World." Read the Moviepaws review.
"First Cow"
This charming indie film abut the first cow in the Oregon Territories during the Gold Rush — and how it plays into two men's secret to success, is now on Amazon, iTunes and Google Play. Read All About Eve, the Star of 'First Cow'
---