The fifth episode of Marvel's "Loki" series brought us several variants of the trickster god and while we love the perfectly cast Richard E. Grant as Classic Loki, we were not expecting Alligator Loki, who also wears the gold horns with pride. His amphibious rival, Throg, is only briefly glimpsed, but fueled some very fun fan art.
SPOILERS
In the "Journey Into Mystery" episode, the Loki we know and love (Tom Hiddleston), ends up in the Void, a place at the end of time, after being "pruned" by the Time Variance Authority. He awakens to find he's just one of several Lokis: Classic Loki, Boastful Loki, Kid Loki and, of course, scene stealer Alligator Loki.
The newly arrived (and very confused) Loki exclaims, "I'm surrounded by variants of myself, plus an alligator, which I'm heartbroken to report, I didn't even find all that strange."
Where did the idea for Alligator Loki come from?
"We were talking about [how] we want to meet many different versions of Loki in this show," head writer Michael Waldron told Marvel.com. I was just like, there should be an Alligator Loki. And it's like, well, why? Because he's green. It's so stupid, but it also makes total sense… You almost have to take it seriously, like maybe he is [a Loki]? Why shouldn't there be an alligator version of Loki? For all we know, that's an alligator universe or whatever. It's just the sort of irreverent thing that, in this show, we play straight and make the audience take it seriously."
2. So is he really a Loki?
Don't ask Waldron for a definitive answer: "I want that to be the next great Marvel debate. Is Alligator Loki really a Loki or not?"
Hiddleston agreed, "It's such a funny question that they all bicker about. One thing about Loki is that Loki loves to be right. And they all have a different opinion about this alligator."
3. How did Alligator Loki end up in the Void?
According to Boastful Loki, the little green variant "ate the wrong neighbor's cat."
4. Who is Alligator Loki's favorite variant?
It appears that only Classic Loki understands what the alligator is saying as he frequently translates the alligator's thoughts. But the scaly variant also allows Kid Loki to carry him, indicating all of the Lokis whom we first meet in the Void like and trust each other — to a degree. He does, however, growl at Boastful Loki's claim about having defeated Iron Man and Captain America and snagged all six Infinity Stones for himself.
5. Who is his least favorite variant?
The reptilian God of Mischief attacks President Loki (who loses a hand to his small but mighty foe), after he declares himself the new ruler of all the Lokis.
6. What does he eat and drink?

He (evidently) eats other Lokis when given the chance and also enjoys some red wine — pinot noir in a box — with his humanoid counterparts in their down time.
6. Did Alligator Loki (aka "Croki") have a set stand-in?
Yes, he did. As director Kate Herron shared on Twitter, the alligator toy, who stood in for the CGI-created star, was "the biggest diva."
7. Is he in the comics?

No, he is not, but look quickly for "Throg," aka a frog version of Thor, who has his own hammer, Frogjolnir, in the comics. Read more about Frog Thor (aka Simon Walterson) on the Marvel Fandom wiki. We get a brief shot of the wee frog trying to break out of his glass jar as the camera pans down into the Lokis' underground lair.
8. How did they come up with Alligator Loki's look?
"We had some early versions when we were doing visual effects that probably were a bit too cute, in the sense of it was a bit more like a cartoony kind of alligator," Herron told Marvel.com. "But it just became funnier and funnier the more it looked like a real alligator that just happened to be wearing the horns. That was the sweet spot. Once we landed in that spot where it felt like a real alligator, but with a kind of slightly jaunty horns on, that's where we were like, 'Oh, there he is.'"
9. Is there an Alligator Loki Funko?
Yes! It's available exclusively at Hot Topic stores. There is also plenty of Alligator Loki merchandise, including t-shirts and a stylish pin.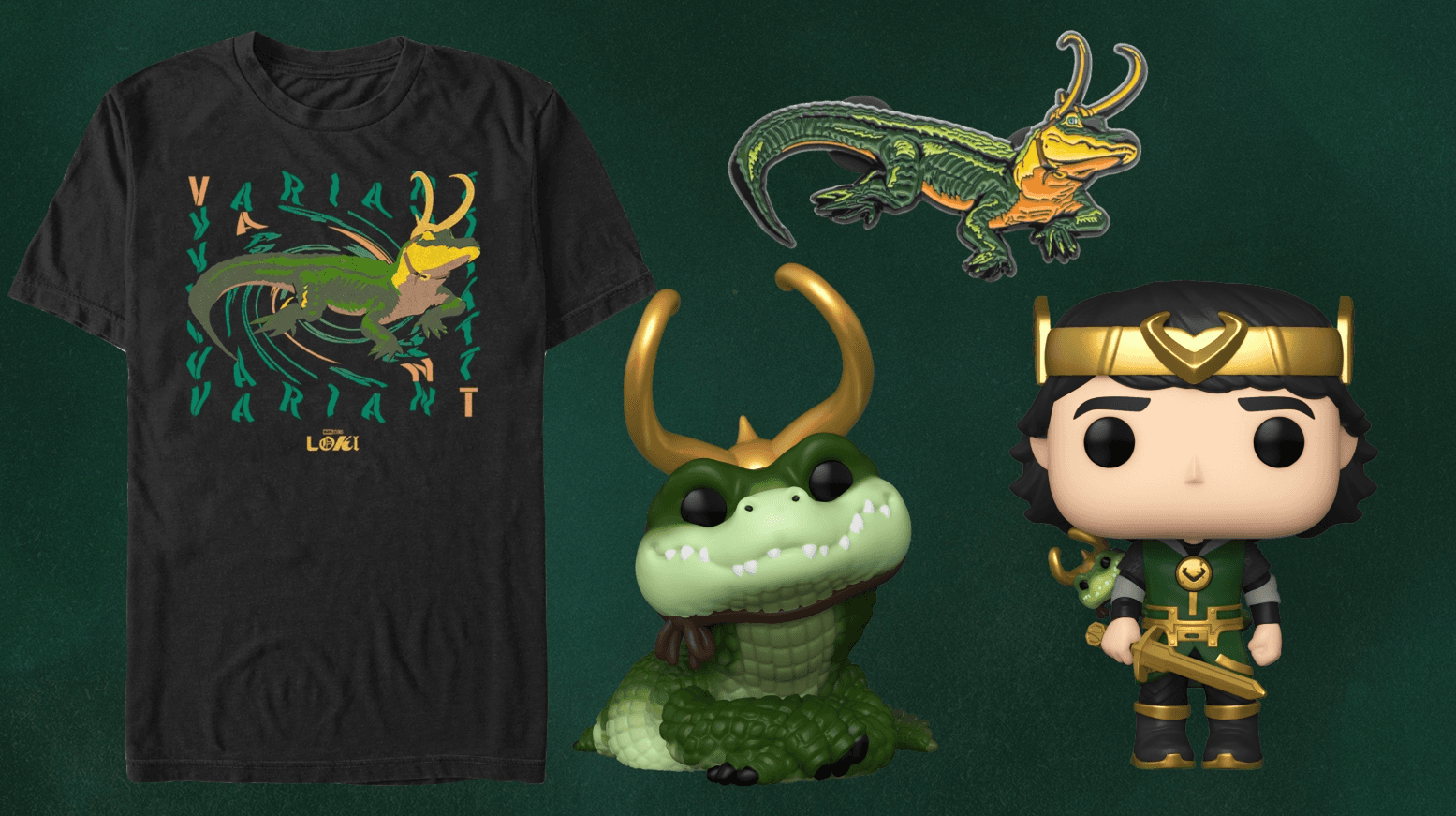 10. Did some great fan art come out of this episode?
Indeed. Please enjoy Alligator Loki and Throg *not* doing "get help," Mobius and "Croki" living their best life on a jet ski and Alligator Loki discovering he's *gasp* adopted!